A Dog's Day Out in Downtown Knoxville (From Fido's Perspective)
I'm a tail-wagging good boy who lives in Knoxville with my human, and I love it when my owner takes me downtown; woof! We do a lot of fun pet-friendly things, like meet other dogs and go to places where the food smells way better than my normal food. And every now and then, my owner sneaks me human food! Here are some of my favorite dog-friendly places to go downtown.
PetSafe Downtown Dog Park
Right in the heart of downtown, there's a perfect and safe place for me to run around, play, and meet new friends - the PetSafe Downtown Dog Park. Coming here helps me get all my energy out, and there's a space for small and big dogs. I like to roll around in the grass, look up at the big buildings, and think, "I love being a city dog."
Get My Picture Made
My owners seems to think I'm really cute, can't blame them! So, they like to put me in front of big, shiny objects, tell me to sit, and then they say "cheese." That's confusing, because I don't get a piece of cheese. But, they gush over the phone and then take more pictures to get my best side. Do I make the Sunsphere look good?
Hotels
Some of my out-of-town friends really like sleeping overnight in these big, big, big buildings called hotels. Mostly humans are there, but a lot of them welcome us dogs too. My friends tell me the beds are so comfy; maybe one day my owner will take me there too! They're called pet-friendly hotels: Crowne Plaza, Hilton Knoxville, Hyatt Place, Residence Inn by Marriott, and The Tennessean.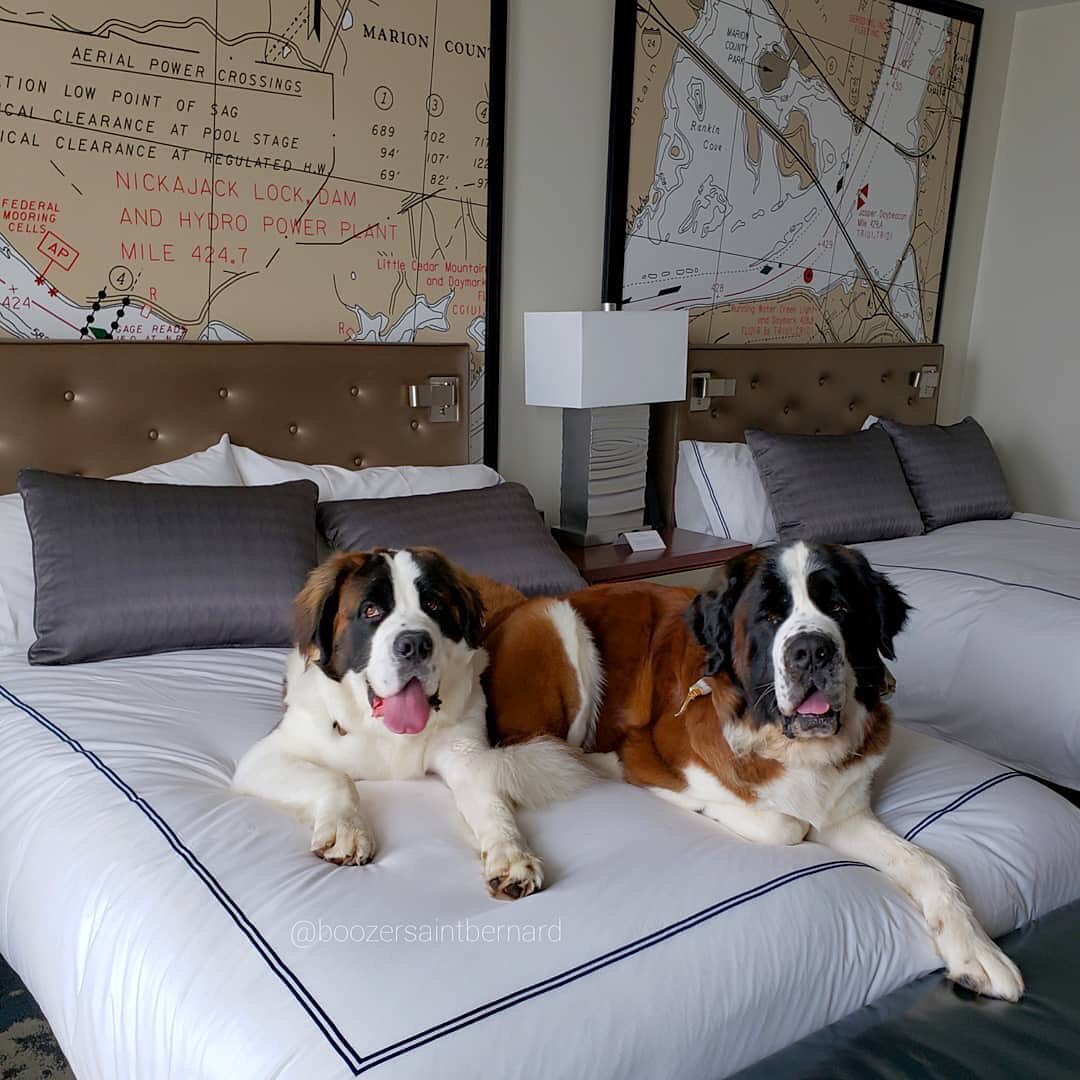 Photo Credit: @boozersaintbernard
CitiFid-O
One downtown business has the motto, "People are tolerated. Pets are welcome." I love that store called CitiFid-O. Yeah, I definitely wag my tail when we're near there, because I know that means I might get a new squeaky toy, or better yet, a treat!
Outdoor Patios
I really like when we go to these places where it smells pawsitively delicious! There are so many smells, I don't even know where to sniff. Apparently, there are 30 of these so-called "dog-friendly patios" at restaurants and bars where I'm welcome. They even have a water bowl waiting for me. And sometimes, my owner slips me a piece of food from heaven.
Paddleboarding
Water! Water! Water! I love when water is all around me, and I'm on a little skinny object in the middle with my owner. My owner likes to stay on that thing called a paddleboard, but I reeeeallllly like to jump into the big river, because it's so fun to swim around! Even if I get in trouble.
Thanks for coming with me on my favorite dog-friendly day in Downtown Knoxville. Maybe I'll see you around some time doing the things I love to do!