Spend Game Day in Downtown Knoxville
Itineraries
Around Town
Fall
Experience magic in the foothills of the mountains on game day Saturdays. Downtown Knoxville, Tennessee is a quick and easy walk from Neyland Stadium, making it the perfect place to spend your Saturday before, during, and after Tennessee games. Gay Street, Market Square, and the Old City come alive with fans dressed in orange-and-white, buzzing in and out of shops and restaurants, matching the color of the changing season. Football and fall in Tennessee—what a combo!
Come see the birthplace of the SEC, enjoy the camaraderie of fellow fans, and experience the enthusiasm of a game day Saturday spent in our reliably unpretentious and unpredictably fun Downtown.
Gear Up: Where To Shop
The orange and white colors were inspired by the American daisy that grew prominently on The Hill at the University of Tennessee campus. Charles Moore, an 1891 UT football player, selected the colors, and they were approved by a student body vote. Tennessee wore orange jerseys for the first time during the 1922 season-opening game: a 50-0 victory over Emory & Henry.
Shop for your own orange-and-white gear throughout Downtown. Nothing Too Fancy has unique Tennessee shirts designed and printed right here in Knoxville. Around the corner on Market Square, Earth to Old City, Fruit Jar Alley, and Fizz have adorable orange and white clothes and accessories to mix and match into complete game day outfits.
Head to Gay Street for the next round of shops. Award-winning Bliss & Tori Mason Shoes is one of the largest locally-owned clothing and gift shops in Knoxville. They have trendy dresses, blouses, boots, and jewelry to show off your Tennessee-pride! Next, Mast General Store has two-floors of merchandise to explore, including our favorite "Power T" shorts.
Step inside Embassy Suites to visit Off the Wall Market, which isn't like any other hotel lobby gift shop. They boast some of the cutest Tennessee items we've seen all year! Another super unique spot is Daché Boutique on the 100 block of Gay Street – they are selling a limited number of denim jackets and jeans hand-painted with orange-and-white checkerboard and other UT designs!
Tailgating: Where To Eat & Watch the Game
Looking for a pre- or post-game meal? Whatever your taste, you'll find it Downtown...all within walking distance of Neyland Stadium and the University of Tennessee's campus! Lots of restaurants in town are sure to have all eyes – and TVs – on UT football.
Downtown Grill & Brewery is one of Knoxville's favorite gathering places to celebrate wins and mourn losses (not this year!) over beer and hearty pub food. Iconic Calhoun's on the River promises lots of BBQ and Rocky Top Potato Skins overlooking panoramic views of Neyland Stadium, the Tennessee River, and the Vol Navy (200+ boats lined up along the river). Jig & Reel gets the party started with whisky flights, TVs, live music, and weekend specials!
Drop in vintage sports bar Tommy Trent's for the largest patio in Downtown Knoxville and Tennessee-themed entrees, like Volun-Tenders, The Peyton Smash Burger, and the Huddle Up Chili. Check out Gay Street's SkyBox Sports Bar & Grill for over a dozen TVs and traditional game day food, as well as The Old City Sports Bar, boasting 25 TVs and food from local Old City neighbors, Southern Grit and Davinci's.
Sweet P's, Balter Beerworks, Babalu, Petro's, and more have takeout and tailgate packages that hit the spot for game day cravings, like pulled pork, burgers, wings, taco bars, potato chip nachos, and orange sweet tea. So many choices, it's difficult to choose.
Get in the Spirit: Cocktails & More
Cheer with a beer, get in the spirit with a cocktail, and wind down with a glass of wine. Here are some must-stops for pre- and post-game celebrations! Elevate your tailgate with Knox Whiskey Works' Big Orange Cocktail made with two ounces of their Tennessee Tailgate Orange Vodka, half a squeeze of lime, topped with Fresca.
Enjoy the fall weather over craft cocktails, mocktails, and wine at PostModern Spirits, Tern Club, STIR, and Brother Wolf. Reach for new heights at rooftops Radius Rooftop, Five Thirty Lounge, and Preservation Pub. And check out Pour Taproom, Pretentious Beer, Merchants of Beer, Suttree's High Gravity Tavern, and Knox Brew Hub for unending selections of beer.
I Will Give My All for Tennessee [Treats]
Football Saturdays in Knoxville would not be complete without a sweet treat. Here are some of our favorite ice creams, coffees, and foods to put on your Tennessee Game Day bucket list! Swing by Coffee & Chocolate for an orange-chocolate truffle paired with an Orange & White Mocha. Grab a Cruze Farm ice cream cone topped with orange-and-white sprinkles, an orange float made with ice cream and Fanta at Kilwins, or orange sorbet at Phoenix Pharmacy & Fountain made especially for Vols season!
Looking for tailgating treats? You can't go wrong with a dozen orange and white iced "world famous" lemon cookies from Ham'n Goodys or a bag of Neyland Mix from Proper Popcorn!
Knoxville is the Birthplace of the SEC
The SEC was founded right here in Knoxville. It's true! In 1932, the schools from the Southern Conference met in the Farragut Hotel, now the Hyatt Place, to discuss dividing the SoCon into smaller conferences. Schools east and north of the mountains remained in the SoCon, while those to the south and west formed something new: the SEC. Find the plaque marking the creation of the SEC at the corner of Gay Street and Clinch Ave. It's a great photo op for the true SEC fan.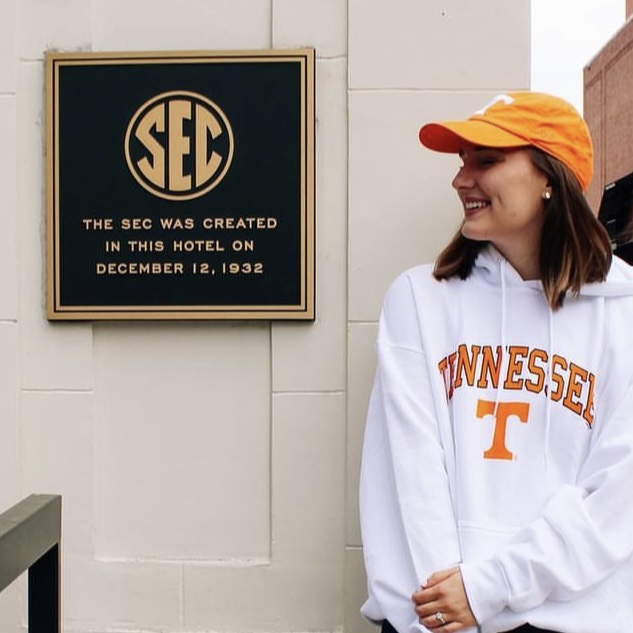 Photo Credit: Hyatt Place & Five Thirty Lounge
University of Tennessee traditions & Vol spirit run deep in Downtown Knoxville.
Spend time in Downtown Knoxville during football game weekends to enjoy the electric environment, delicious food and treats, shopping, and other events happening at the same time, like the Market Square Farmers' Market. Park in one of the parking garages, make the easy trek to Neyland, and experience the magic of Downtown Knoxville before and after the game. Go Vols!