Weekend Guide to Downtown Knoxville | 15 Local Favorites
There are so many exciting things to do in Downtown Knoxville, Tennessee, it's difficult to narrow it down to just a weekend trip. To make your planning a little easier, we're bringing you a local's weekend guide featuring hidden gems, long-standing establishments, and unique activities you'll only find in Downtown Knoxville. A visit to Knoxville would not be complete without them!
Friday Night: Bistro at the Bijou
Kick off your weekend in Downtown Knoxville with live jazz and a farm-to-table dinner at Bistro at the Bijou. Open since 1980, and connected to the famous Bijou Theatre, this chef-owned spot has been an icon of downtown – and not one to miss. The restaurant has a reputation for providing fresh ingredients straight from the owner's garden, and a quaint, cozy, and unique atmosphere.
Walk Down Gay Street
After dinner, walk down the most iconic street in, dare we say, all of Tennessee – Gay Street! It dazzles at night with the glow of the Tennessee Theatre marquee lights, along with hundreds of street lights and neon signs. Take in the historic architecture and take note of shops, restaurants, and activities you want to come back to throughout your weekend.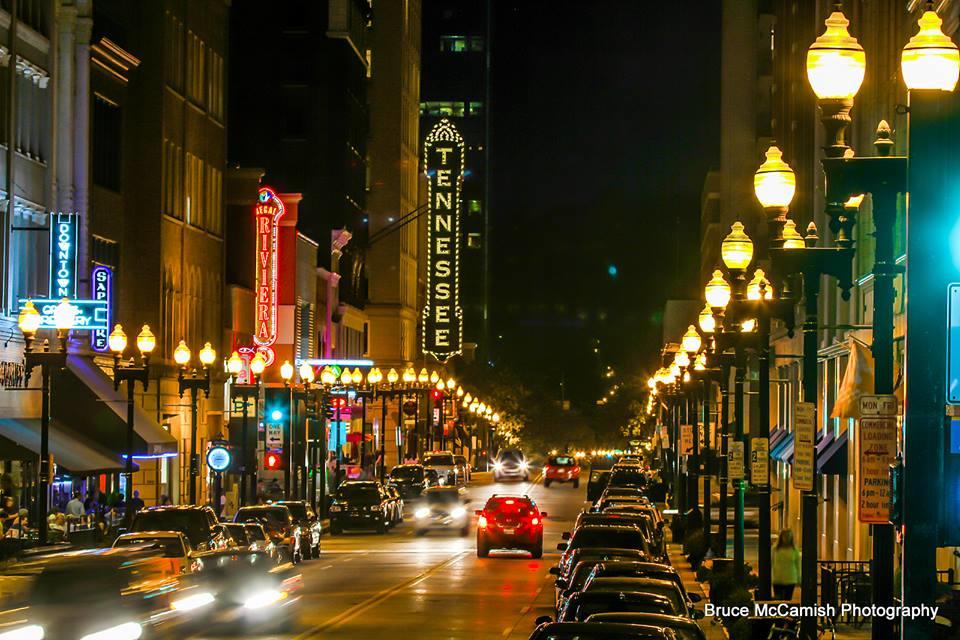 Photo Credit: Bruce McCamish Photography
Stay: The Oliver Hotel
Just steps away from the hustle and bustle of Market Square is the historic Oliver Hotel. Built in 1876 as a bakery, candy factory, soda fountain, and luxurious ice-cream parlor, this boutique hotel has been renovated into 28 beautiful rooms, along with a restaurant and speakeasy (more on that later!). The design is unmatched, the building is alive with history, and it's all in the heart of downtown.
Fun fact: Author Elizabeth Gilbert completed her memoir "Eat Pray Love" while she stayed here in 2005.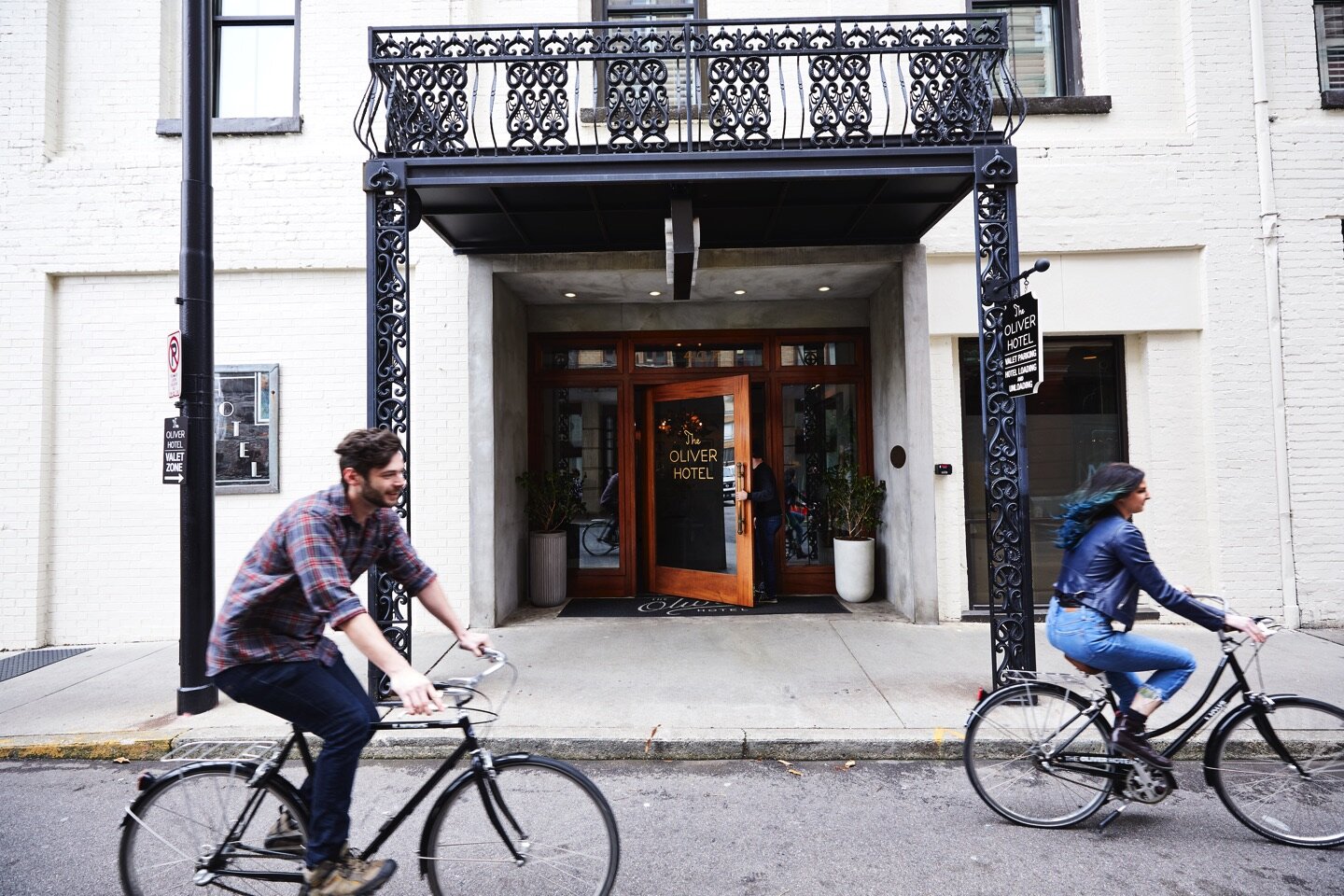 Saturday Morning: The Farmers' Market & Brunch
After a good night's rest in a luxurious bed, head to the Market Square Farmers' Market to discover fresh flowers, local produce, and homemade breads. The Square buzzes with locals enjoying a morning out in the city. Around the corner, take your picture with the seasonal Downtown Knoxville mural in Strong Alley before brunching in the Old City at Southern Grit. The low-country inspired cuisine is comfort food at its finest. Order up mimosa bottles, fried green tomatoes, buttermilk biscuits, and fried biscuit donuts for a treat!
Saturday Lunch: Yassin's Falafel House
If you're looking for lunch, we've got your spot! Voted the "Nicest Place in America" by Reader's Digest in 2018, and extensively covered by Good Morning America, Yassin's is definitely a fan-favorite that serves up falafel and kindness! Opened by a Syrian refuge, Yassin prides his restaurant on family, love, and building community. Plus, making you smile with their delicious falafel, gyros, and homemade hummus.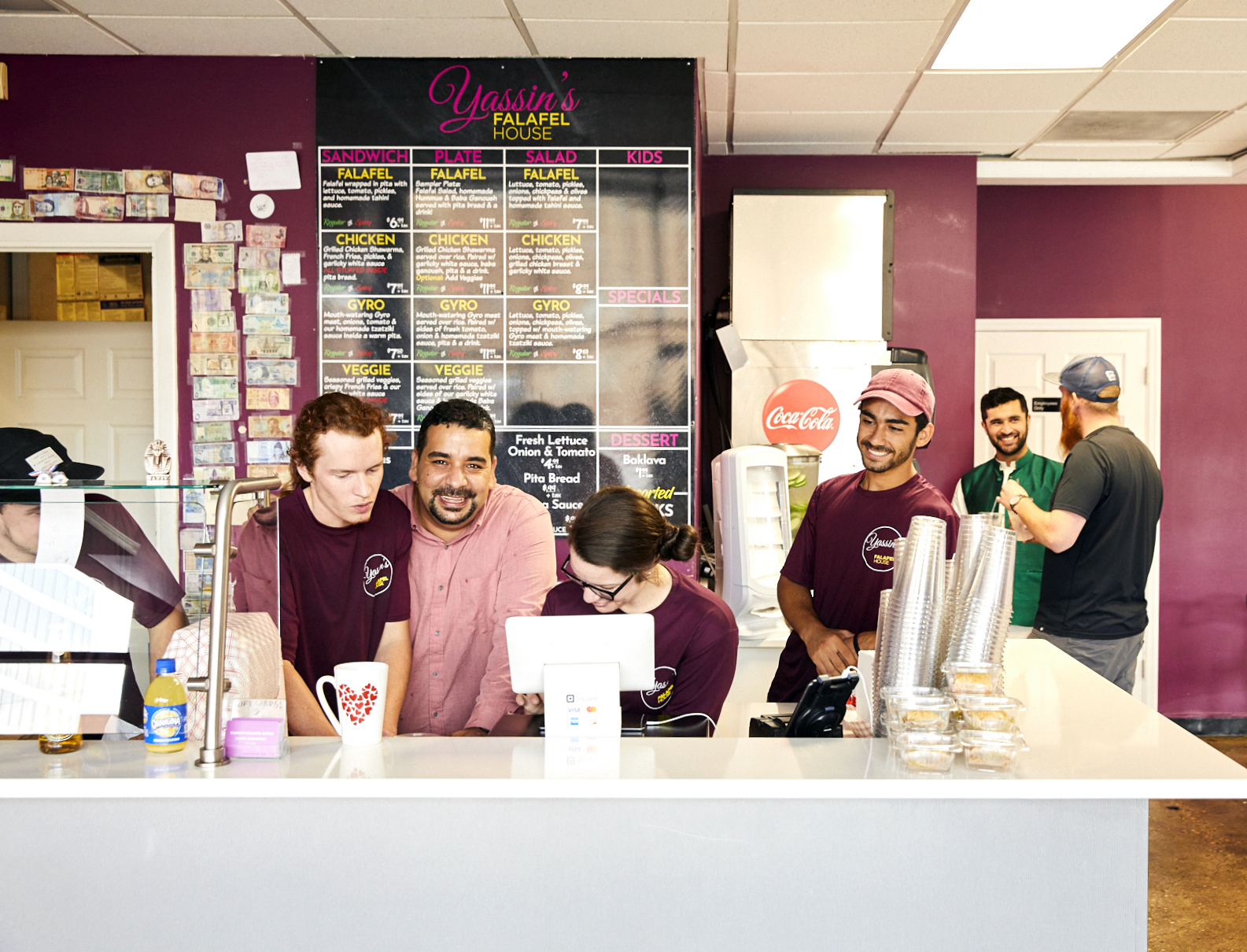 Photo Credit: Amanda Friedman for Reader's Digest
Saturday Afternoon: Pick Your Activity
No matter your mood, there's an activity to suit your desire. Leisurely stroll through Market Square, Gay Street, and the Old City to explore local gifts and goods from Rala, Tree & Vine, Bliss & Tori Mason Shoes, and Union Ave Books. While you're in the Old City, stop by Pretentious Glass Co for a live glass-blowing demonstration. You can buy their glasses and other handblown decor from their storefront. Another unique spot downtown is the Women's Basketball Hall of Fame. It's home to the "World's Largest Basketball," measuring 30-feet tall and weighing 10 tons! You can test your skills on 3 courts, a dribbling course, and a passing skills area, and you can snap a photo pretending to be different players throughout history.
Saturday Dinner: Emilia
Chef Matt Gallaher opened Emilia, an Italian restaurant on Market Square serving up homemade pasta in an intimate setting. Sourcing local food for their dishes, Emilia delivers delicious house pulled buratta, gnocchi as soft as pillowy clouds, focaccia that melts in your mouth, and butterscotch budino smooth as silk!
Saturday Night: The Peter Kern Library
Remember that speakeasy we mentioned? Just look for the red light in the alley behind the Oliver Hotel entrance for Peter Kern Library. A nightcap at this cozy speakeasy is the best way to spend a Saturday night downtown. Order a cocktail off the menu printed in old books or ask the amazing bartenders to craft one for you.
Sunday Brunch: The Tomato Head
A Knoxville fan favorite, The Tomato Head has been serving up fresh dishes for carnivores and vegans alike since 1990. Homemade pizza dough, sandwich breads, vibrant salads and sauces, tasty desserts - and of course, BRUNCH. The variety of their brunch items will please any taste bud, from egg rolls (pizza dough rolled with scrambled eggs) and breakfast pizzas to huevos rancheros and build your own waffle. Pro tip: sit outside on their shaded patio to people-watch everyone going by. Oh yeah, and order the monkey bread!
Sunday Afternoon: Pick Your Activity
Although we hate to see you go, we have a variety of things for you to pick from during your last few hours in downtown. The art enthusiast will enjoy an afternoon at the Knoxville Museum of Art, always free to enter. The coffee aficionado can enjoy a latte from Old City Java, and the sweet-tooth can order fresh churned ice cream from Cruze Farm or a dozen lemon cookies to take on the road. Lastly, the craft cocktail connoisseur can enjoy a drink on PostModern Spirit's patio.
We're so happy you chose...
Downtown Knoxville, Tennessee as your weekend destination! Share your own photos using #LoveDowntownKnox.